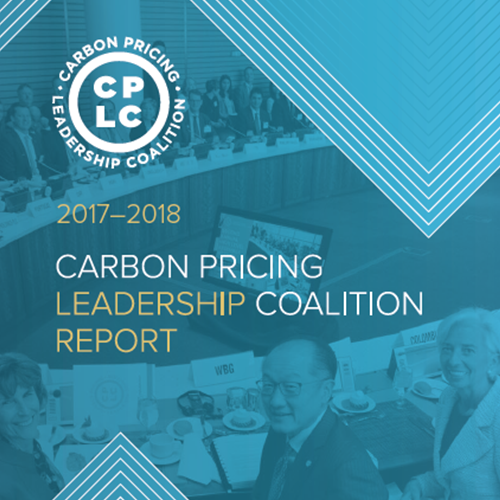 The Carbon Pricing Leadership Coalition (CPLC) is a unique initiative that brings together leaders across national and sub-national governments, the private sector, academia, and civil society with the goal of putting in place effective carbon pricing policies that maintain competitiveness, create jobs, encourage innovation, and deliver meaningful emissions reductions. The Coalition aims to drive action through knowledge sharing, targeted technical analysis and public-private dialogues that guide successful carbon pricing policy adoption and accelerate implementation.
On April 19, 2018, carbon pricing leaders from around the world came together to accelerate efforts to extend carbon pricing into new regions and sectors to help the world meet its Paris Agreement climate change targets.
During the event, the CPLC released is annual Leadership Report, which provides a review of the work in the past year, case studies from jurisdictions implementing the FASTER Principles for successful carbon pricing and opinion pieces from the Co-Chairs, Commissioners from the High-Level Commission.
Emilio Lèbre La Rovere and Harald Winkler, both members of the High-Level Commission on Carbon Prices, explain in the report their concerns of the adoption of high carbon taxes in developing countries. In their studies, it is explained that this adoption is needed to meet the Paris agreement goals. However,it founds a barrier when this transition to a low-carbon society must allow for simultaneously meeting other sustainable development goals: notably bridging the housing gap; raising living standards; ensuring food security; and improving access to education, water, sanitation, health, mobility, and energy.
Donwload The Carbon Pricing Leadership Coalition Report 2017-2018